Description
Prepare yourself, for the most colorific backpack you will ever add to your wardrobe. It's quite literally like carrying a rainbow on your back. Our Luminesk Star Backpack changes color by reflecting light, so be prepared to receive some crazy looks and stares while wearing your new backpack, because as the angle of light changes, so do the colors. To see it in action check out the photos below (there's also a couple photo reviews you can check out too).
Details
Size in inches (15.15"H X 13"W X 6"D)
Size in cm (33.5cm H X 33.5cm W X 15.5cm D)
Designed with the popular Luminesk geometric shard pattern
Luminesk purple soul interior lining with 1 internal pocket with zip and 2 open pockets lined with reflective trim and gold Luminesk badge
Delivery
Free Insured Shipping
United States:
If order is over $75 USD.
Outside United States:
If order is over $100 USD.
Delivery Times:
United States:
3-8 business days, unless it is on back order, in which case it will take 4-6 weeks.
Canada, Europe and Australia:
Typically 4-10 business days, however due to COVID-19 expect delays in the 2-6 week range.
Other countries:
expect 1-6 week delivery time.
Other Shipping Details
All Orders Ship From USA:
We ship worldwide (except United Arab Emirates and Saudi Arabia)
Shipping Insurance:
For a limited time, all shipping methods can be upgraded to FREE shipping insurance, so in the event your order is not stated as delivered, we will cover it 🙂
Processing times:
Between 1-2 business days, 3-4 business days during peak seasons.
Tracking Numbers:
You will receive a tracking number once your order has shipped.
Customs Fees:
Shipping does not include customs fees, which your country may or may not charge.
Orders that Include Back Order Items:
Orders that include back order items will be shipped together with the non-back order items that were purchased in the same order.
For further shipping information
click here
Customer Comments
Limited Offer: Free Ship USA
Available on backorder
Customer Reviews
07/01/2020
Anonymous
United States
Lizzy
I've wanted this backpack for such along time, ever since I found Luminesk way back in 2017! Now I have a matching bag for my Luminesk wallet 💜. I love all the compartments, it's got a great zip pocket and two internal pockets which can fit my mobile phone, lip gloss and pens. Love Luminesk, highly recommend the backpack!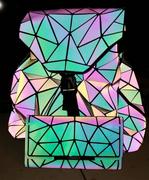 06/29/2020
Jasmine G.
US
Bright and Colorful!
I'm in love with my Star Backpack! I bought this backpack to use while going on bike rides so that I could hold a few, larger things. I was worried it might be too small to actually use for work, but it fits everything!! I can fit my laptop, water bottle, notebooks, makeup bag, etc. I am thrilled with the way that it looks, in both ambient light and outdoors. The two little pockets inside make it easy to store sunglasses and my phone. And I can hide away a small wallet in the zipper portion. I'm not sure how much weight it can hold, but the adjustable straps make it super easy for ultimate comfort - no matter how much you add in it. Totally recommend this backpack for anyone who wants to add a little bit of color to their lives.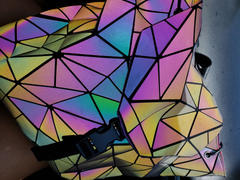 Wow thanks Jasmine for a killer review and sharing your experience. We're thrilled you love the Star Backpack 🙂
Love the colors
This backpack is way bigger than I anticipated, not that I'm complaining. I can fit a fair bit in it and it's a comfortable fit. Love the colors this bag reflects.